Deal with Keratosis Pilaris this winter
Keratosis Pilari is a common, harmless skin condition that causes dry, rough patches and tiny bumps, usually on the upper arms, thighs, cheeks or buttocks. The bumps generally don't hurt or itch.
Symptoms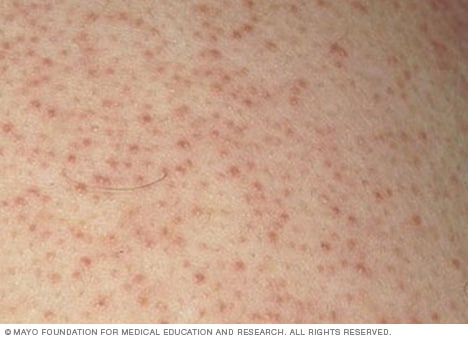 Keratosis pilaris can occur at any age, but it's more common in young children. Signs and symptoms include:
Painless tiny bumps, typically on the upper arms, thighs, cheeks or buttocks
Dry, rough skin in the areas with bumps
Worsening when seasonal changes cause low humidity and skin tends to be drier
Sandpaper-like bumps resembling goose flesh
I have been suffering from Kp for the past 7 years . For many KP rises due to a reaction to a product, for me it arose due to waxing . YES! WAXING. It was like I woke up a sleeping tiger.
Ever since then I have struggled with it. I stopped wearing sleeveless.
I have found a few products that have worked for me . Lets be honest, my KP hasn't magically disappeared or anything , its still there. But its a lottt better. With proper CONSISTENT care, I have found a mix of products that have worked for me.
Hot baths are a BIG NO NO. Hot water and most bubble baths strip your skin leaving it tight and dry.  The key is to find a bath product that actually moisturises your skin while you soak, we developed the Softening milk  bath oil with this in mind.
Right after the bath, I like to use a toner. I love using PIXI glow tonic. I Know I know, it wasnt designed for this purpose, but since it contains Glycolic acid it works great for unclogging the pores which in turn  helps with KP
Here are some products that have worked for me. Honestly I keep switching them. They all have proved themselves to me ..